Vintage African Safaris:
---
Intimate Camps
with Personalized Service
With over one million acres of land for our private use, Kwando Safaris focuses on the one thing we have in great abundance – wild wild Africa.
Think intoxicating sunsets, tranquility and endless horizons: your safari at one of Kwando's six camps is immersed in the remoteness that is hallmark of a high-quality wildlife experience.
That sense of isolation is never felt for a second, for the warmth and care of the professional Batswana staff who host you on your safari experience will ensure you feel like part of the family.
Sharing a fireside story under the glow of the stars and the thrill of quietly observing a lionness and her cub, are just some of the memories that will stay with your for life.

---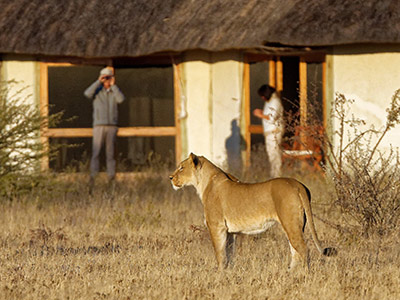 Pristine Wilderness
Each of our spectacular camps are set in unique and diverse wildlife destinations. Our Okavango Delta camps are located within a concession of 175,000 hectares while our Kwando Linyanti concession spans 232,000 hectares (that's 30 times the size of Manhattan!) and only has only two camps as well. Our Tau Pan camp is just one of two camps within the vast expanse of the Central Kalahari Game Reserve, while we are the only camp within Nxai Pan National Park, with the best access to the magnificent Baines' Baobabs.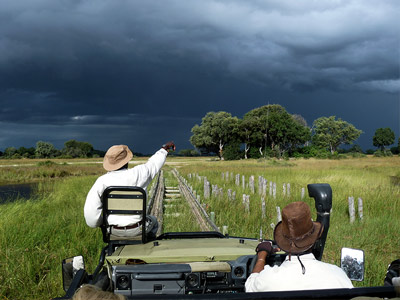 Trackers
The guide and tracker combination on every game drive is Kwando Safaris' forte, providing the benefit of two sets of roving eyes and keen ears that miss nothing as you traverse the wilderness of northern Botswana. Your experienced guide is also able to fully focus on imparting interesting information and bush folklore to you, while the skilled tracker guides you through the undergrowth and across the open plains.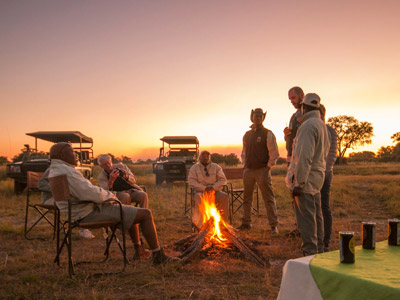 Flexible Timings
We believe the bush dictates the time of your meals, and your safari as a whole, and not the other way around. This is why you're here, in the wild. Should your vehicle be out following an amazing sighting, your meals will be kept toasty and warm, awaiting your return. Similarly, families with younger children may opt to return earlier in line with their children's preferences.

---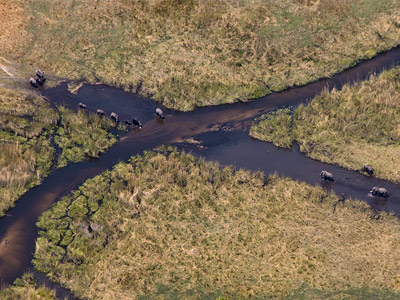 Private Concessions
We operate in exclusive concession areas offering some of the most consistently high-quality game viewing in the country. Don't fret about missing a photographic opportunity in our Delta and Linyanti camps, as the location of these camps within our expansive private concessions mean that you can go off-road and closer to sightings for that money shot. Night drives are also available in which shyer nocturnal animals can also be spotted.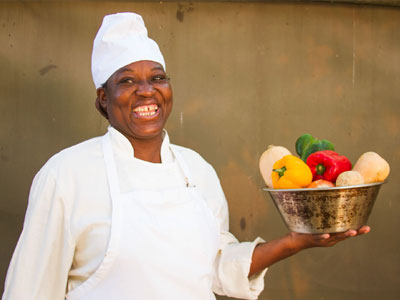 The Personal Touch
We pride ourselves on the personal attention from committed staff. With no more than 18 guests per camp, your safari is in the hands of experienced and talented managers with whom you will definitely create a personal connection with. Each safari vehicle with three rows of three seats, only takes a maximum of 6 guests, in which you are assured the attention of your guide and also the comfort to have sufficient space to spread out your gear.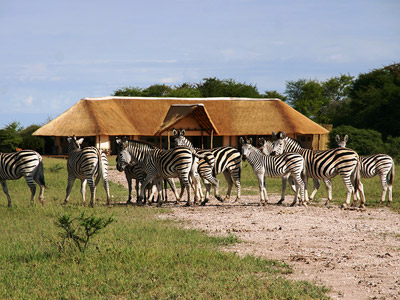 Digital Detox
There were never any phones or laptops back in the early days of safaris. Kwando subscribes to this mindset and your safari is dominated by the sounds of nature (more often than not, right outside your tent!) and not the pinging of your mobile phone. Disconnect: your phone is now just a camera. Relax, recharge and revitalize yourself… The bush is a healing place.